After week one of the Genomics zone we're approaching the eliminations and starting to wonder which of our inspiring scientists are going to miss out on the prize and the kudos of winning I'm a Scientist USA.
It's been a really successful first week, with nine schools chatting with the scientists and over 180 questions submitted to ASK so far.
As a new teacher to the program said:
The students loved it! Did not really know what to expect, but it was great. Thank you so much!
We have schools from 8 different states, from California to Montana, New York to Wyoming, and scientists in Arizona, Michigan, Pennsylvania, Colorado and California. Live chats are taking place from early in the morning on the East coast to late in the afternoon on the West coast and as we enter the second week most of the country has switched over to Daylight saving time, except Arizona, making the coordination of live chats crucial to ensuring a successful event.
The website also continues to improve as we respond to feedback and develop new systems. This event sees the launch of a new chat engine which features lots of new helpful features, like one click replies and a message box that displays messages sent to you in the chat.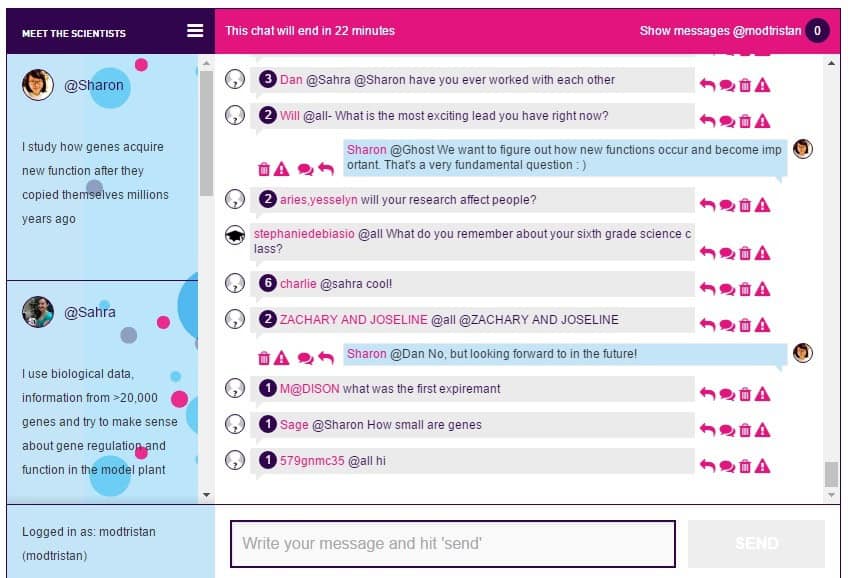 The scientists have shown an amazing amount of dedication attending the chats and explaining their research while going about their regular day to day work. Xueyuan is analyzing  DNA sequences in fruit flies that duplicated themselves several millions years ago, Sahra is using genomics and a model plant to understand how plants respond to stress, Matthew is finding new disease genes that help explain why children are sick, Jennifer is writing computer code that analyzes thousands of genes to find mutations that cause cancer and Candace is learning how to combine genomics methods with an understanding of behavior and physiology to predict neurological problems, by studying twins.
As one student said:
Thank you all so very much; you are the greatest human beings that have ever lived in the history of the universe.
We're certainly not going to argue about how great the scientists are, but each year the student questions also get better and the live chats more exciting and engaging, constantly surprising and impressing all of us here at I'm a Scientist USA, as well as the scientists themselves.
In ASK, Xueyuan has been describing how genes duplicate?, Sahra has explained what a model plant is, Matthew has received a lot of questions about what causes people to get sick?,  Jennifer  has provided advice on being taken seriously in science as a woman and Candace has revealed the most interesting thing that she has learned about neuroscience.
We've also had big questions like Why is peace so difficult to find? and more personal questions like What is the name of the disease they named after you?
You can read through all the answered questions and comments in each zone here.
So far the Genomics zone has been a massive hit with the students, scientists and teachers and we're looking forward to another week of challenging questions, unbridled curiosity and hopefully more students responses like this one:
you guys are so amazing i cant thank you guys enough for chatting with me!!!!!