Well it's the end of week one, how is everyone doing?
The scientists seem to be loving it, despite the huge number of questions they are receiving through ASK, over 250 questions so far, and in the 11 live chats they have already taken part in.
All this curiosity is hard work to satisfy and in the staffroom Jeff Shi said "I don't know how I'm doing with questions, but I'm developing my speed typing skills".
It can be hard to know what the impact is on the students when you are interacting through a computer but this picture from Mr de Guzman's grade 5 class in San Francisco gives an insight into what is going on in the classroom while our scientists are frantically typing away.
We have schools from ten different states, from California to Massachusetts, Montana to Georgia and even a Canadian school in Ontario. So far booking live chats according to EDT time zone has been without incident and I was quite surprised one morning to find a class of California students, who started their chat at 7:50am local time, to be alert and raring to go with the questions.
One of the big advantages of online STEM engagement is being able to overcome geographical boundaries. Eight of the fourteen teachers taking part are on twitter and it's a great way to stay in touch, make new connections and let people know what's happening, but what about the ones that aren't?
Well we have our staffroom open during the event and many teachers still like tried and trusted email. For the first few days we kept the staffroom open all day but it was only really being used shortly before and shortly after chats and then mainly by our scientists. We have had some great feedback from teachers by the more traditional email.
"Just had the first chat and the kids loved it! They actually want to send the scientists they voted for letters explaining why they chose them." Johari Harris, Kindezi School, Atlanta, Georgia
"That went really great — my students really enjoyed themselves and were beyond stoked every time their questions were answered." Lesli Horowitz, Kearney School of International Business, San Diego, California
"The chat went better than I expected!  I was so impressed with how much the kids got into it and how fun and interesting the scientists were.
The kids did NOT want to stop!  I am hoping that we might be able to schedule it again in the next few weeks but I haven't checked to see if there are spots open.  I also would love to get my other science classes involved but that would be another 100 kids!
The voting is a great idea and the kids really liked to end the session by voting and learning more about the scientists.  Now that I know what to expect a little better I will allow more time for the kids to get the know the scientists profiles ahead of time and get some questions in the "ask" section first.
I also like how there is a monitor. I could warn the kids to keep questions appropriate and if not they would be kicked out.  They can really turn on the maturity if they know that this is an authentic experience.
Thank you so much and I look forward to doing this more in the future!!"
Stephanie DeBiasio, Hamilton, Montana
Stephanie, when you give feedback like this, we will do everything we can to have 100 of your students involved next time!
Not only are our scientists, students and teachers having a great time in the chats but they are also developing longer lasting links with teachers and students through twitter.
What do other scientists think of I'm a Scientist USA?
Well since the start of the week we have had three scientists sign up to take part in our next event and they seem to really like what they see.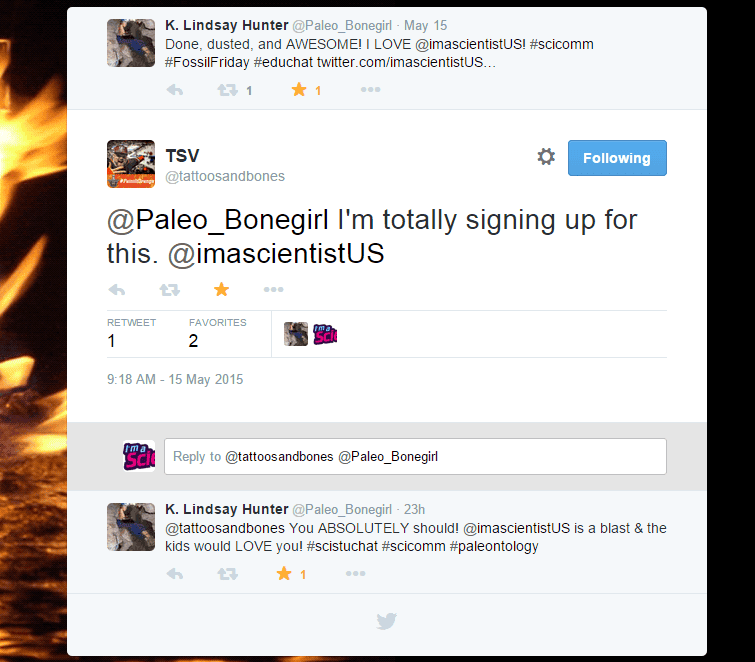 How is the technical side of things going?
So far things are running pretty smoothly. There are a few little glitches, some teachers had some problems booking live chats and for a while I couldn't see all the ASK questions submitted due to the wrong display setting in WordPress, but with all the expert support coming from the Gallomanor communications team we've been able to get things back on track pretty quickly.
How is the voting going?
You didn't think we tell you that did you? The first elimination will be at 5:30pm EDT on Tuesday May 19th, so check back here or follow us on twitter for the announcements.
What else have we learnt this week?
Halfway through the week, I sat in on #scistuchat, a twitter chat run by Mr Taylor of Dickson County High School whose class took part in one of our live chats on Friday. Mr Taylor goes by the twitter handle of @2footgiraffe and is the organizer of #scistuchat.  It was the last twitter chat of the year and the format was flipped, so for this session scientists could ask the students what they thought of science and science education. If you've not taken part in a twitter chat it takes a little getting used to. Before the chat I watched a helpful video created by @2footgiraffe that carefully went through how the chat works and explained how you can start a conversation with other participants. What was most surprising about the chat was the global nature of the participants, there were students and teachers from Honduras and a large number of scientists from all over the world and a variety of disciplines.