The second week of the event is underway in the Helium and Soil Zones and today we have our first eliminations.
Despite the likely trepidation the scientists are feeling, they all seem to be loving the event, answering a huge number of questions in ASK, over 300 questions so far, and in the 16 live chats they have already taken part in.
Yesterday Stephanie remarked
Glad to know I can keep chatting with the students even after elimination, it's super fun talking to them.
We have schools from 13 different states, from California to Connecticut, Montana to Georgia and even a Canadian school in Ontario. Our scientists have been taking part in live chats really early in the morning from Arizona and late into the night from Africa. Online STEM engagement enables amazing interactions to take place across vast distances and for the past week Mark Ritchie has been chatting to students from Tanzania, where he is visiting the Serengeti to do some field work.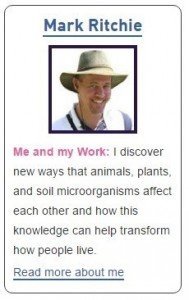 All the scientists are doing a fantastic job fitting in the hectic chats and satisfying the curiosity of the students while continuing with their day jobs, which range from studying people's brains to researching the bacteria in plant roots, from monitoring patients anesthesia during surgery to generating electricity from soil.
These pictures and videos from Ms Hardaway's class in Atlanta and Ms Burke's class in Delaware provide an insight into what is going on in the classroom while our scientists are frantically typing away.
Great chat today with @imascientistUS! My kids asked some thoughtful questions and the scientist were very engaged! pic.twitter.com/CpQHdLSJst

— Kamilyah (@KSH_TheDreamer) April 27, 2016
Keegan the scientist just joined the chat! Cc @imascientistUS #cddolphins pic.twitter.com/J8p9s5RMWi — Room 302 (@CDroom302) April 28, 2016
Asking Dr. Dirt what would happen if there wasn't gravel in soil #cddolphins Cc @imascientistUS pic.twitter.com/o1JBUtZgzc

— Room 302 (@CDroom302) April 28, 2016
We even had a principal at Carrie Downs Elementary in New Castle, Delaware join a chat to ask the scientists a question.
Even Mr. Timm has a soil question for the @imascientist scientists! #cddolphins pic.twitter.com/mil78r9iBc — Room 302 (@CDroom302) April 28, 2016

Probably the most moving moment of the year occurred last week, when we received an email from Ms de Luca who teaches students with physical and medical disabilities.
I can't tell you how excited they were to actually be chatting live with scientists.  If you could have seen my class set up, you would have been amazed too.  Students using a head mouse to chat on their computer, aides getting on to help other students, it was great!
It is genuinely difficult to find the words to express how pleased that made us and we hope to enable many such interactions in the future.
There have been lots of other amazing moments and as always the students have been surprising us with their questions and curiosity.
We started off the event on National DNA day and fittingly Melissa has been explaining what sex chromosomes are and why she studies them.
We've also had big questions like How was the earth made? and more personal questions like What makes you a good scientist?
You can read through all the answered questions and comments in each zone.
But ultimately, it's the connections that the scientists make with the students that leave a lasting impact on us all.


Well Isaiah, there's four days left so we hope you submit more questions, take part in more chats and the scientist you vote for wins!