On October 4th the American Association of University Women (AAUW) held a conference titled FROM MUD PIES TO DINOSAUR BONES: Encouraging Girls' Interest in STEM.  It was an original title and it caught my attention on Twitter so I got in touch with Muriel Everhart, President of the Ithaca Branch of AAUW to find out more.
The conference was held at the Paleontological Research Institution's Museum of the Earth and had a program full of interesting talks on formal and informal STEM education, as well as online learning.
Speakers included Sara Silverstone, Director of the Empire State STEM Learning Network, Ellie Fulmer, Assistant Professor in the Education Department at Ithaca College, Sally Wolfe a teacher, Patrice Prusko of Cornell University, Illa Burbank, President of IthacaSTEM Advocates and Warren Allmon, Director of the Paleontological Research Institution.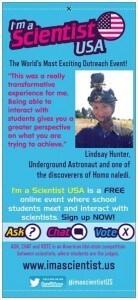 Looking at the program it seemed like just the sort of event where the attendees would like to hear more about I'm a Scientist USA and the involvement of Lindsay Hunter, underground astronaut and one of the discoverers of Homo Naledi. So I offered to set up a stand and talk to the attendees about online engagement and paleoanthropology.
I was provided space on a table right outside the conference room and whenever the presentations weren't underway I was busy explaining just how I'm a Scientist works.
Before the last speaker of the day, Warren Allmon, gave a fascinating talk about the history of women in paleontology I was asked to speaker for 10 minutes to the women. I had not been expecting to speak so I delivered a very impromptu outline of the concept and format of I'm a Scientist to everyone and included what I knew about the discovery of Homo Naledi. One of the questions I was asked was how we recruit participants to I'm a Scientist, providing a great opportunity to speak in more depth about the efforts we had gone to recruiting more women.
It was a really great opportunity to meet others interested in, and working in, STEM education. The importance of encouraging more girls and young women to have an interest in STEM cannot be understated and illustrating its importance was the presence of a journalist covering the event for the Cornell Chronicle  – Conference addresses gender disparity in STEM.